Early School
Pre-Kindergarten (Ages 3-4) and Kindergarten
The Early School program is a time of exploration and discovery. At Friends, our Early School students learn through play. As natural investigators, children's minds are wired for STEAM learning (science, technology, engineering, arts, and mathematics), so we build on our students' curiosity through play-based activities. Our students write stories about their dreams, make science experiments that explode, grow buttery gardens to understand pollination and build castles to master teamwork and engineering skills. Our program is designed to enhance the development of our students and to lay the foundation for a lifetime of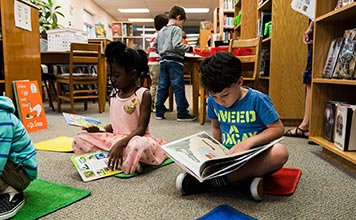 Lower School
Grades 1 through 4
With the Lower School program, we nurture our students' creativity and sense of wonder as they take their first steps toward a path of lifelong learning. The Lower School curriculum is designed to support children as they transition from early childhood programs to the academic and social expectations of the elementary grades. Teachers implement hands-on, experimental activities that enable students to improve essential skills, engage in creative and critical thinking, broaden knowledge, and deepen understanding.
Middle School
Grades 5 through 8
In Middle School, teaching and learning occur against the backdrop of students' incredible physical and social growth. And we like to think that our Middle School program is truly unique. VBFS middle schoolers can take risks and try new things, learning through both successes and challenges. In keeping with our Quaker values, the Middle School faculty respects and honors each student's emerging identity and interests, and works hard to support them as they navigate these new experiences. Our students benefit from intimate class sizes, develop strong relationships with peers and faculty, allowing them to develop into their best individual selves. VBFS Middle School students are able to balance the pressures that adolescents face today while also enjoying their educational experience.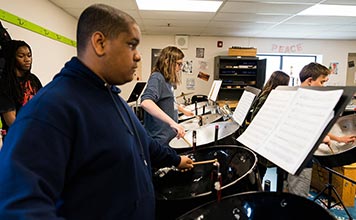 Upper School
Grades 9 through 12
The Upper School program equips our students with the necessary tools and skills needed to excel beyond our school walls. Our students immerse themselves in a warm and engaging environment that inspires authentic inquiry, serious scholarship, and deep reflection. Our small class sizes and individualized instruction ultimately enable each student to grow academically but also develop their own sense of independence. Typically, VBFS students are fortunate to find themselves accepted at their first choice of college or university. The foundation created at Friends allows students to become leaders in their respective fields of interest, pursuing dreams and finding success well beyond their degrees.