2020 - 2021 Tuition Schedule
At Friends, we've created a rich, engaging curriculum designed to challenge and develop students at every level. Our hope is that each year, parents that invest in a Virginia Beach Friends School education feel as though this is the best investment they've ever made.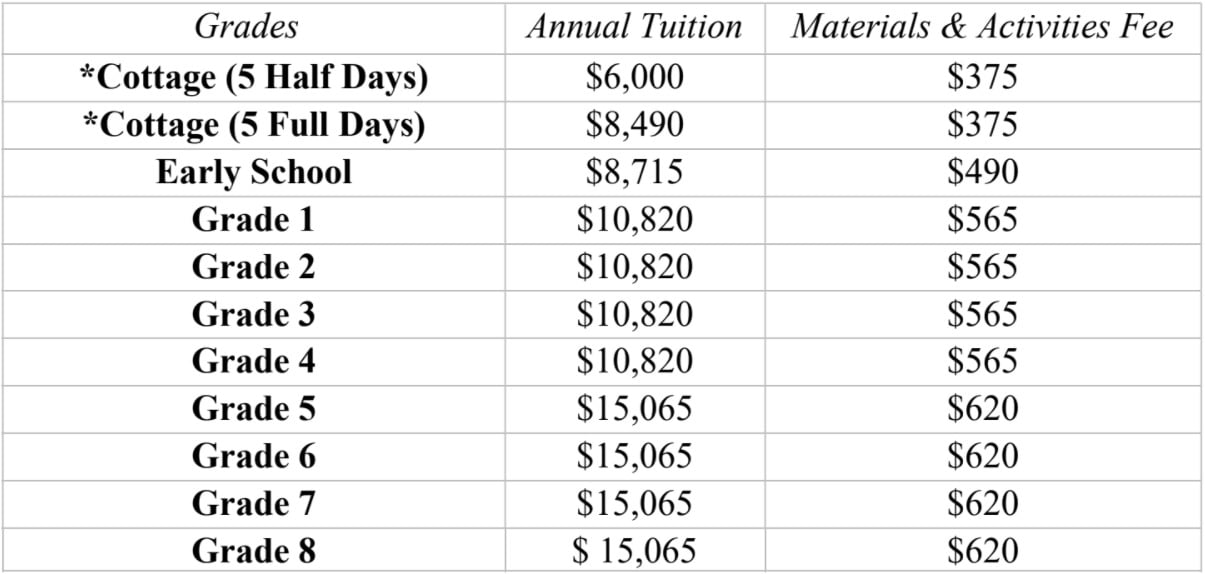 Discounts are available to the following:
5% discount for active duty military families
5% discount for multiple siblings at VBFS, per additional sibling
Please note: No discounts can exceed a 10% discount to tuition. We encourage families who have 3 students attending VBFS to apply for financial aid.
Financial Aid – VBFS offers tuition assistance based on demonstrated need and other significant considerations determined by SSS, the School's financial aid database. Please apply for financial aid through the SSS database and enter in the School code 3331. Please note: If your family is utilizing the military and sibling discount, your financial aid will be based on the tuition minus the discounts.
In addition, financial assistance is not available for the Cottage and Early Childhood tuition.
Click here to learn more about our financial aid policy.
The Tuition Refund Plan is administered through Dewar's, and the fee, which will be published in February, is due to VBFS on July 1, 2020. The Tuition Refund Plan is optional for families paying tuition in one payment, but is not for families who are on the 10-month payment plan from June 2020 to March 2021. If you choose Payment Plan A and opt not to purchase the Tuition Refund Plan, no portion of the tuition will be refunded in the event of withdrawal or dismissal. Click here to learn more about the Tuition Refund Plan.
*The Cottage Program offers multiple day options, other than 5 days. Please contact the Director of Admission for information on the Cottage multiple day program.