2019 - 2020 Tuition Schedule
At Friends, we've created a rich, engaging curriculum designed to challenge and develop students at every level. Our hope is that each year, parents that invest in a Virginia Beach Friends School education feel as though this is the best investment they've ever made.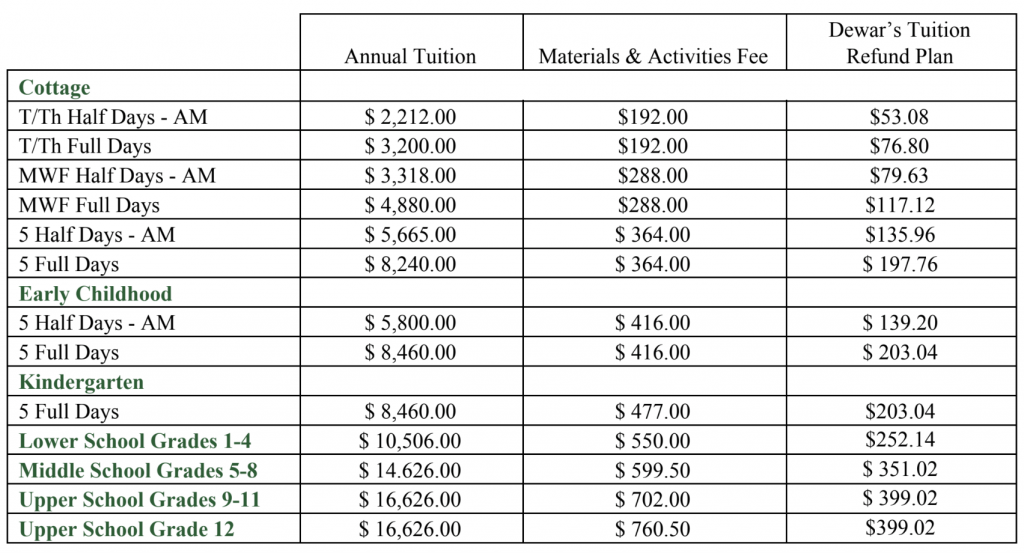 Fees - Fees are due May 1, 2019 and are non-refundable and not pro-rated.  The Tuition Protection Plan is optional for Payment Plan A and mandatory for Payment Plans B and C.  If you choose Payment Plan A and opt not to purchase The Tuition Protection Plan, no portion of the tuition will be refunded in the event of withdrawal or dismissal.  
Payment Plans – A $275.00 non-refundable deposit is required with the signed contract. Upon contract signing you will need to choose one of the following Payment Plans to pay the tuition balance:
Payment Plan A

:  One payment payable to VBFS;

eligible for 5% discount on tuition paid by May 1, 2019.  This discount is not applicable to tuition assistance recipients.

Payment Plan B

:  Two payments made directly to the school 1st payment due in August,

2nd and Final payment due in January 2020.

Payment Plan C

:  Administered through FACTS Management Company

10 monthly payments only. **Dewars Insurance required - Paid Directly to Dewar's.
Tuition Assistance - The school offers partial tuition assistance based on need and other significant considerations. Additionally we offer 5% Military Discount to all military families and a 10% sibling discount.  **Not to exceed 10% total discounts.
Early Arrival and Late Departure Programs – These programs are billed at the end of each month as a per child fee.    
Early Arrival Program: 7:30 – 8:00 a.m. $7.00/day
Late Departure Program: 3:00 – 5:00 p.m. $7.00/per hour/partial hour

 
ABOUT TUITION ASSISTANCE
VBFS admits students of any race, color, religion, sex, and ethnic origin to all the rights, privileges, programs, and activities generally accorded or made available at the School. It does not discriminate in administration of its personnel policies, admission policies, tuition assistance, or athletic and other school-administered programs.
VBFS seeks to meet the financial need of its currently enrolled students and new applicants. The admissions process for new and returning students is entirely separate from and has no bearing on the tuition assistance process and decision. All new applicants who wish to be considered for tuition assistance shall apply for admission to the school first and then apply for tuition assistance. Tuition assistance is generally reserved for our K through 12 students.
Tuition Assistance is available to families who have applied for and who have been approved for tuition assistance. All applicants must complete an application with FACTS Grant and Aid Assessment.
To apply CLICK ON THIS LINK.  Submit all tax documents required directly to FACTS Grant and Aid Assessment.   FACTS will not verify your application, nor will the Tuition Assistance Committee be able to award any funds, until all tax documents are received.
Friends School's Tuition Assistance is primarily a self-funded grant program. A grant is a gift to the student, and there is no obligation to repay.  It is hoped, however, that the student and parents will support Friends School through donations to the annual fund and volunteerism when possible, so the school can continue to offer similar tuition assistance to students in the future. ​
Demonstrated need, strength of academic record and citizenship are the primary criteria for tuition assistance.  In allocating funds, Friends School gives priority to children of alumni and to siblings. The school reserves the right to rescind a tuition assistance award at any time should there be a change in demonstrated need, academic record or citizenship.​
Tuition Assistance is awarded on a yearly basis and is renewed if the family's financial statement demonstrates continued need.  Friends School's Tuition Assistance Committee begins awarding grants as soon as verified applications from FACTS are received.  In order to be considered you must make certain that you have signed and returned your enrollment contract, making sure that you have checked the box "I wish to be considered for tuition assistance."  Friends School makes tuition assistance awards on a first come, first served basis and does not reserve funds for late tuition assistance applications. A family who submits a late application – whether for the first time or for a renewed award – is eligible for remaining funds. Please note Friends School often has a waiting list of tuition assistance applicants.
The Friends School Tuition Assistance Committee is responsible for the allocation of all tuition assistance.  It bases its decisions on the report received from FACTS Grant and Aid Assessment. The application must include information on income earned by parents and on all other financial resources (e.g. relatives, churches, organizations, grants, etc.) that are available to the student. 

Once the Tuition Assistance Committee has reviewed your application, you will receive a letter notifying you of the decision.  If you are awarded Tuition Assistance you will receive a letter along with your new contract reflecting your financial award. You must sign and return this new contract in order to complete the enrollment process. 
CLICK ON THIS LINK for FACTS