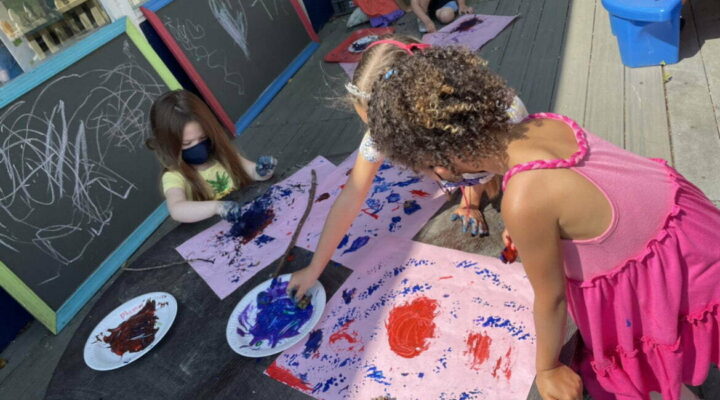 Frequently Asked Questions
You've got questions, and we've got answers. Below, we invite you to explore some of the most commonly asked questions we've received throughout the year. Not seeing your question? Not a problem! We're happy to answer any question you might have. Just give us a call at 757-428-7534 or email Sarah Combs at [email protected]!
Is VBFS an accredited school?
Absolutely! In fact, VBFS is accredited by the Virginia Association of Independent Schools (VAIS) and the Friends Council on Education (FCE). Plus, we're members of the National Association of Independent Schools, Virginia Council of Private Education, National Business Officers Association and the National Honor Society.
When should I apply?
Enrollment for the 2023-2024 academic year has opened! Touring the school, submitting the application materials, interviewing and completing the student assessment will be wrapping up in the middle of February for first-round admission decisions. If there is still availability, second round admission applications will be accepted from March to August.
Is financial aid available and how do I apply?
It certainly is! VBFS financial aid awards are based on need and are issued on a first come, first serve basis. An application is required through FACTS to begin the process for consideration. About 25% of our students receive financial aid in kindergarten through 8th grade. Priority considerations are given to returning students who already receive aid, returning students who matriculate to kindergarten or whose family circumstances have significantly changed, and new families.
When will I know the results of my child's admission?
We do our best to provide you with a timely response once your child has completed their visit and the committee has had a chance to meet. Additionally, we update you on any progress made throughout the application process.
What are your school hours?
Our school hours vary by division. But generally, our days run from 8:00 in the morning until 3:00 in the afternoon.
Does VBFS offer before and after school programs for Early and Lower School children?
We do! There is an Early and Late Departure Program for students in the Cottage through 4th grade. Early Arrival begins at 7:00 am, and Late Departure runs until 6:00 pm.
Can students bring their own lunches?
Friends students are welcome to bring their own lunches. VBFS partners with YAY LUNCH for catered lunches for students who would prefer not to bring their own lunches. VBFS parents order online and local restaurants will partner with YAY LUNCH to prepare healthy lunches fresh everyday. All lunches are nut-free and will offer vegetarian, gluten-free, and dairy-free meals. To learn more, head to www.yaylunch.com.
What if my child has food allergies?
VBFS is a peanut-free campus. Many of our students live with food allergies. At Friends, our staff and faculty are knowledgeable and proactive in working with families who have allergy concerns. If you have any questions, we are happy to discuss this subject with you at any time. We're beyond confident that your child will experience and safe, worry-free experience at snack and lunch every day!
What supplies are provided by VBFS and what supplies are parents responsible for providing?
The VBFS all-inclusive tuition covers the majority of supplies for each student. The supply list for students that families are responsible for providing can be found here:
Early Kindergarten/Kindergarten Supply List
First and Second Grade Supply List
Third and Fourth Grade Supply List
Does VBFS have a dress code?
VBFS doesn't have specific clothing that students are required to wear during the academic day. But we ask students when they are on campus or representing VBFS at school-sponsored events, they dress in a manner that reflects the values of our educational community.
Does VBFS have a bus service?
We do not. Parents must transport their children to school daily. However, some families try to organize carpools to make traveling more convenient!
Are guidance and counseling resources available?
VBFS has a full-time Counselor, DeeDran Talbert, who supports our students daily and also serves as VBFS' Director of Diversity and Student Life.
Does VBFS require immunizations when enrolling my child?
Yes, we require a copy of every student's immunization record upon accepting an offer of acceptance. We accept religious exemptions from immunizations, which requires the proper form to be completed. Please refer to the Immunization Guidance for a list of required immunizations.