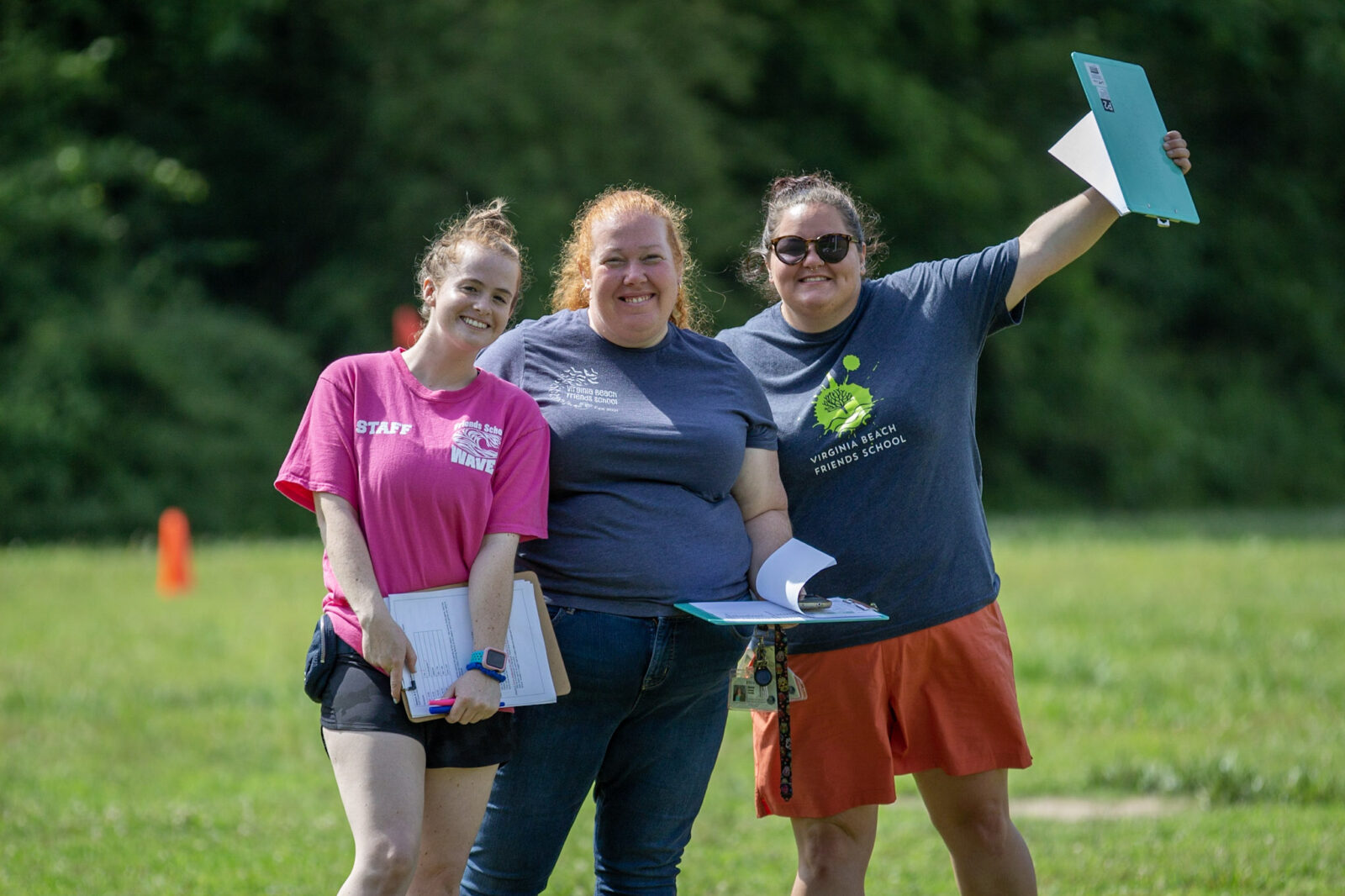 Join Our Community!
Virginia Beach Friends School provides a nurturing community of academic excellence which encourages mutual respect, personal responsibility, and the fulfillment of each person's potential through integrating the values of equality, integrity, simplicity, peace and environmental stewardship. To that end, we seek qualified individuals with the knowledge, skills, and ability to enhance our students' experience and strengthen our community.
The Details
VBFS maintains a competitive salary and benefits package that supports our employees while offering the space for creativity and independence in the classroom.
For teaching positions, a master's degree and teaching experience in the field is preferred; a bachelor's degree is required. For staff positions, we seek candidates with relevant experience and a commitment to excellence and enthusiasm in the workplace community.
Positions are listed on this page as they become available.
To apply, please send cover letter, CV, completed employment application, and three references to [email protected].
A background screening will be required once a conditional offer of employment, including fingerprints.
Open Positions
We're always on the search for amazing individuals to join our community. Whether it be volunteers, substitute teachers, or varying full/part-time positions, if you have a background and passion for education, or feel your skill set matches a need to be filled at VBFS, we want to hear from you!
1st Grade Teacher

Virginia Beach Friends School (VBFS) in Virginia Beach, VA seeks an experienced elementary teacher for an August 2022 start to teach a combined first/second-grade classroom. VBFS is a small school that seeks to provide an experiential and joyous education that is supportive and nurturing for each of our students. This person must have a love for the younger elementary age child and a desire to utilize the Quaker pedagogy guided by the Quaker Testimonies, S.P.I.C.E.S (Simplicity, Peace, Integrity, Community, Equality. Stewardship). This teacher will be responsible for continuing to implement the Superkids reading program and the social studies curriculum.
Job Requirements:
A minimum of a BA in Elementary Education. A master degree is preferred.
A minimum of 3 years of lead teaching experience in the younger elementary grades.
Experience with whole-child, experiential education is essential to create a vibrant classroom that is hands-on and experiential, fostering a life-long love of learning.
Knowledge of child development and elementary education; a commitment to delivering differentiated instruction and ability to provide appropriate classroom management.
Instructional techniques that integrate reading, writing, math, and technology throughout the content areas; and a desire to collaborate with colleagues in the areas of science, music, art, and PE to build interdisciplinary units and projects.
The ability to self-reflect on instructional practices and personal interactions for continuous improvement; work effectively with administrators, colleagues, students, parents, and the community demonstrating organizational agility; and excellent oral and written communication and human relations skills.
A commitment to diversity and to the school's Quaker mission.
The teacher must be committed to serving as an advocate, a role model, and a supporter of students and the school.
Preference will be given to candidates having:
Experience with multi-grade, multi-age classrooms.
Experience with Quakerism or Friends Education.
To apply: please send a cover letter, resume, and a list of 3 references to Mike Barclay, Head of School [email protected].
Substitute Teacher
Virginia Beach Friends School is seeking qualified substitute educators to work with students in grades Toddler through 8th Grade on a per diem basis.
Degree Requirements
Associate's Degree is required. Preferred Bachelor's Degree and above or in their senior year of undergraduate studies at an accredited college or university.
Job Responsibilities
Willing to be contacted for coverage the morning of placement
Must be able to work the full school day of 7:50 a.m. to 3:15 p.m.
Support the teacher by implementing the daily curriculum for assigned grade level
Create and maintain a positive, structured learning environment
Hold students to high academic and behavior standards consistent with the Virginia Beach Friends School Mission Statement
Hold students accountable during class time, transitions, meals, recess time, and other learning opportunities that may be assigned to the substitute educator
Collaborate with other teachers to ensure a safe environment for all students
To apply, please send cover letter, CV, completed employment application, and three references to [email protected].