A Precise, Detailed Approach To Education
A Virginia Beach Friends School education is undoubtedly powerful, as each student directly benefits from small class sizes with individualized attention and support. At Friends, no classroom has more than 15 students, with an average student to teacher ratio of 6:1. In our classrooms, teachers are able to truly know each student and instruct to their needs, helping them thrive and grow as lifelong learners.
A VBFS education allows students to make the most of their school experience. Regardless of their interests, our approachable size enables students to have meaningful experiences as they pursue passions in and out of the classroom. Whether it be taking an active role in service learning projects, grade level leadership roles, playing sports, participating in internships, conducting peer-to-peer mentoring, or completing meaningful capstone projects - VBFS students never fall through the cracks.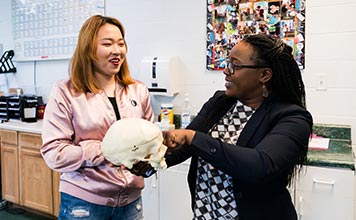 Quaker Education
The foundation of a VBFS education is rooted in the Quaker Testimonies: Simplicity, Peace, Integrity, Community, Equality, and Stewardship, or S.P.I.C.E.S. as we like to call it. But what does this mean for VBFS students? It means that our students are taught to view the world through a much bigger lens.
VBFS students are taught how to think rather than what to think. They are shown how to be critical thinkers who have a love for learning. They learn to understand the value in multiple perspectives of thought. VBFS students learn that respect is mutually given as they are seen as equal partners in the learning process with their classroom teachers. The teaching of tolerance and acceptance is ingrained into Quaker pedagogy in such a way that students, no matter the age, learn to see themselves as members of a global community striving to make the world a better place.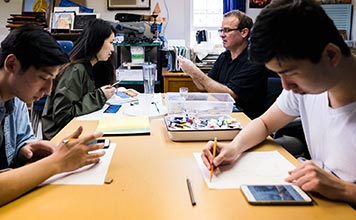 A Pre-K Through 12 School
In the old-fashioned "one-room schoolhouse," students of varying ages and abilities were all situated in a single classroom. This environment allowed younger students to work at a faster rate and enabled older students to become leaders by mentoring their younger counterparts.
Today, at Friends, our campus allows us to adopt the ethos of the "one-room schoolhouse." It is not uncommon to see classmates from Upper and Middle School working with elementary or preschool students. Whether they are reading buddies working in the library or simply participating in community service projects, our Pre-K through 12 environments promotes collaborate across grade levels.
Because of our size, there is special care and time dedicated to all VBFS students learning each other's name. When appropriate, mixed-age classroom and instruction occurs, allowing students of different ages to learn from one another and be mentored by older peers. Regular school gatherings are commonplace at VBFS, enabling the community to truly come together to celebrate student successes and share upcoming events.
Ultimately, our intimate environment provides a unique learning experience when compared to much larger Hampton Roads' independent schools.