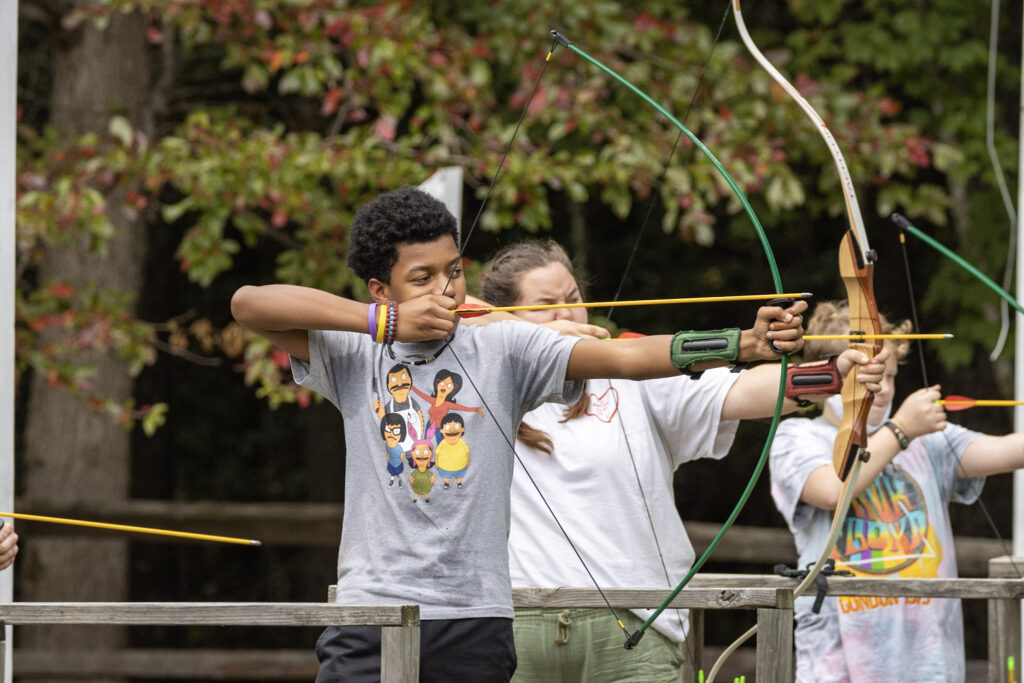 MIDDLE SCHOOL CAN BE FUN!
Grades 5 to 8
Middle School is an exciting yet challenging time for young people as they navigate the transition from childhood to adolescence. Here at Friends, we provide a small and nurturing environment for students to grow, without the typical pressures found in Middle School.
Students productively explore this unique stage of life in an emotionally and physically safe environment. During this time, up and above preparing our students academically for high school, we emphasize organization skills, independence, responsibility, and decision making - stressing the importance of participation and involvement in the learning process. At the simplest and most profound level, we teach respect for self, for others, for school, and for the community.
Middle School affords students an opportunity to experience very real and varied environments. Whether it's oystering in the Lynnhaven River or journeying to the Sea of Cortez, our Middle School students challenge themselves to take risks and embrace the unexpected. Middle School students are motivated academically, but especially interested in being inducted into the National Honor Society, where academically strong students are encouraged to join the Junior Chapter of the program, if selected.
The Middle School Forensics team is a beloved extracurricular activity led by Megan Murphy, who has coached the Friends School Forensics Team for the past fifteen years. Each fall and spring, private schools across Hampton Roads compete against each other in the public speaking areas of: prose, poetry, storytelling, and original oratory. Students and schools are awarded individual and group trophies for excellence in public speaking. The purpose of middle school forensics is to help build student confidence and poise, as well as to refine public speaking skills in a cooperative and supportive setting.
Other extracurriculars include the International Fun Club where students will explore different cultures through music, games and food with Teacher Devin, Student Government Association, Honors Committee, Lego Challenge Club with Teacher Danny, Builders Club with Teacher Gabby, and Yearbook Club. The 7th and 8th grade students will also be invited to join the Quake Youth Leaders organization.
Sports are also offered in the middle school, with basketball leading the way in the fall.
Our 7th grade students will take Physics as their science course, and head to Busch Gardens in the spring to learn about the amazing magic behind rollercoasters.
Our 8th grade students are introduced to Biology for their science program. The The Biology course includes a study of living organisms and vital processes. Themes that will be covered in this course include scientific skills, biochemistry, cell biology and cellular processes, molecular genetics and heredity, evolution, local ecology, as well as plant and human body systems. The course includes laboratory experiments designed to reinforce course content and practice project-based learning through dissection and studying living and non-living things.
The Middle School students head to Camp Silverbeach in the fall for their annual camping trip, and their end of year trips include Washington D.C. and New York City!
Virginia Beach Friends School prepares our middle school students for entry into local independent and public high schools in the Hampton Roads area. Our 8th-grade students leave VBFS prepared for the academic and personal challenges of high school; where they distinguish themselves as students and people of character.
Our personalized process begins in the spring of seventh grade, where parents receive ongoing guidance from Mike Barclay, Head of School, and Dee Talbert, Guidance Counselor. Each 8th-grader will have an individualized secondary school plan that is led by meeting with the student, family, and connecting them with local schools in the area. Important questions will be answered along the way, such as: What are the different school choices in the area and the advantages of each one? How do I apply? What are schools looking for in a candidate? Which schools are realistic choices? What are the costs?
We help our students navigate the application, financial aid, testing, essay writing, and interview processes. In addition, our 8th-grade students are provided with opportunities to visit local independent schools. During the fall of the 8th-grade year, admissions counselors from various independent schools from around Hampton Roads visit the VBFS campus to speak with 8th-graders. These meetings help Friends students learn about independent high school options beyond their local public high school.
In the past years, Friends School students have matriculated to both Cape Henry and Norfolk Collegiate, along with a number of the various Virginia Beach Academies and Advanced Academic Programs. Ultimately, it is the job of Virginia Beach Friends School to work with all its graduating 8th-grade students and their families to help them find the next best-fit school to continue their academic careers.
The Secondary School Placement Program is included as part of the middle school tuition. Below is a list of some of the schools where our middle school students attend high school and that VBFS partner with for the Secondary School Placement Program:
• Norfolk Christian School
• Norfolk Academy
• Norfolk Collegiate
• The Hague School
• Cape Henry Collegiate
• Catholic High School
• Entrepreneurship and Business Academy-Kempsville High School
• Global Studies and World Languages Academy-Tallwood High School
• Governor's STEM & Technology Academy-Landstown High School
• Health Sciences Academy-Bayside High School
• Legal Studies Academy-First Colonial High School
• Mathematics and Science Academy-Ocean Lakes High School
• Visual and Performing Arts Academy-Salem High School
Come experience our campus and find out how middle school can be fun again!