By: Alex Dworetzsky, Class of 2015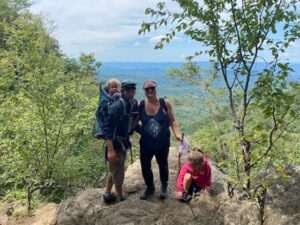 In the early 2000s, a love story for the ages began at Friends School! Celeste and Kyle Martin met while attending Virginia Beach Friends School Middle School. Celeste attended Friends School from 4th through 9th grade, and her now-husband, Kyle, attended from 7th through 9th grade. In speaking with Celeste, she described how her mom was
looking for a more customized educational curriculum. She felt her daughter wasn't getting the attention she deserved in the public school system. Celeste remembers falling in love with the campus and Friends teachers who immerse their students in all aspects of the curriculum. She fondly remembers the outdoor learning elements of her Friends experience, particularly how teachers used the wooded trails behind the Wilson Center Gymnasium. For both Celeste and Kyle, it's the values instilled in them while attending Friends School they remember the most. Community and friendship are the virtues she and her husband remember most about their Friends School experience.
Celeste's favorite list of teachers is long. There was Teacher Muff who was the art teacher before our current art teacher, James O'Connor. Teacher Karen, Celeste's then science teacher, turned science from her least favorite subject to an area she grew to enjoy and found interesting. Whether then or now, the impact of Friends School teachers clearly lasts a lifetime.
Today, Kyle owns a landscaping company and Celeste is a manager at the Association of Research and Enlightenment. They have a beautiful daughter named Elsie currently enrolled in kindergarten at the Friends School and are hoping to enroll their youngest son, Memphis. Now, as Friends School parents, Celeste and Kyle love the small and nurturing feel on campus. More importantly, they are thrilled that their children are receiving the same Friends education that helped them become they people they are today. Celeste and Kyle have been together for 20 years and are excited to see what the future of Friends School holds!