START THE WEEKEND OFF RIGHT!!! This Friday (2/11) Becca Briggs, VBFS parent and yoga expert, is continuing the adult yoga series being offered after drop-off from 8:15-9:15 on alternating Fridays. ALL LEVELS ARE WELCOME! We will be meeting in the bottom of the Meeting House. The cost is $7 a session and you can bring cash or Venmo Becca @Rebecca-Briggs-14. This is a great way to get involved with school activities, meet a few other parents, and feel ZEN!
https://www.signupgenius.com/go/10c0e4dadad2ca1fbce9-vbfs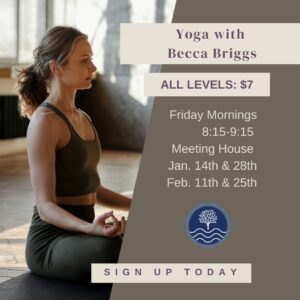 A Note From Becca:
My name is Becca Briggs. I am a private and small group yoga instructor teaching primarily in the Great Neck area of Virginia Beach. I have taught yoga for over 15 years on and off and have been in practice since I was a student at Friends School, where I was first exposed to yoga. I have a 200hr RYT from Savannah Yoga Center in Savannah, GA from 2007 and my most recent as a 500hr RYT here in Virginia Beach at Angela Phillips Yoga Center in 2018.
Yoga first found me when I was a cottage aged student here at Friends School; where, at the time, Gayle Myers taught a weekly yoga class in the meeting house. Many years later, while my children were in the early school program at Friends, I volunteered to teach weekly yoga classes for a year to the early school students. I also offered an after-school class to parents and teachers for the several years that my children attended Friends. Teaching the early school students was both rewarding and eye-opening, instilling in me how essential the need for yoga is for all ages.
Having taught in the studio setting for years, I moved to try private instruction – offering more flexibility for my schedule as well as the benefit of getting to know my students and better understand their practice needs. When the pandemic started, I took a break from teaching yoga altogether, and I am currently working toward rebuilding and taking on new positions. I am currently teaching a small group yoga class from home on a weekly basis, and looking forward to the opportunity to teach again in the meeting house on Friday mornings.
I am trained under many styles of yoga, but primarily focus on the Iyengar-inspired class, which is heavy on alignment, strength and stabilized stretching. I teach a well rounded flow-based class with awareness around breath, alignment and mind/body connection. I also offer yin style yoga, which includes a class centered around longer holds and less postures – allowing for long, deep stretch and more work centered around letting go mentally.
Please don't hesitate to reach out with any questions or concerns, otherwise I look forward to seeing you on the mat!
Respectfully,
Becca Briggs